Playing football as a kid is easy: You simply go out to the street, say hi to any other children and start playing.
The older we grow, the harder it is to play "the beautiful game". We are here to change that!. Our vision is to make playing football super easy, for anyone, anytime, anywhere.
Tech, Growth and Ops Teams
This is the team that is building CeleBreak's bright future.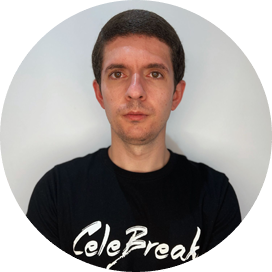 We have a big team of match hosts and organizers who give their best and all their energy to deliver the best possible football experiences to our community.
You can find all the games on the CeleBreak app

Use your phone's camera to scan the QR code and download our free app. Available for iOS and Android devices.
Join the
CeleBreak

community
CeleBreak plays men's football, women's football, and mixed football, on artificial turf, natural turf, and indoor fields. You can join our games individually or with friends.
Don't worry about anything other than getting to the field ready to play. A CeleBreak host will welcome you and provide balls, bibs, and will take care of giving you the best experience.