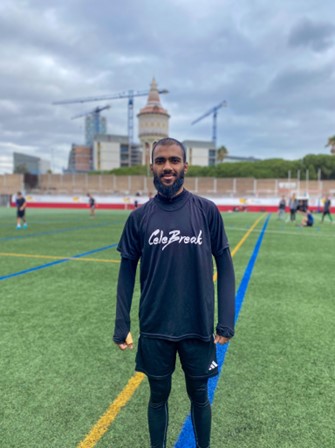 In CeleBreak, narratives bloom that go beyond the game, revealing how football becomes a much deeper experience than a simple sports activity, and the story of Nuruzzaman Rony Korim Begum is no exception. "Rony," as he is known in our community, shared with us how football helped him integrate into society.
Rony, hailing from Bangladesh, landed in Spain in 2008 at the tender age of 11 seeking new and promising horizons. His arrival not only marked a geographical shift, but also a personal rebirth. "It was a challenging process of adaptation," he recalls, "but football became my refuge from the very beginning."
Getting adjusted and ingegrated into a new society or culture can be quite a challenge, but for Rony, football emerged as a universal language that transcends all cultural barriers. "In football, it doesn't matter if you speak the same language as your teammate. That allowed me to socialise more and learn the language quickly," he shares with a smile reflecting the unique connection that the sport provided.
From his early days in Spain, Rony found his refuge in football, playing in the schoolyard as soon as he landed in his new home. His journey in the sport took him from futsal in Mataró to delving into football 11, passing through different categories. His determination and talent were recognized when, still a cadet, he ascended to the first division team of Castellar del Valles which competed at that time in the first Catalan division.
Despite his aspirations to make football his way of life, economic and family circumstances led him to take a detour at the age of 17. He had to temporarily step away from football to embrace work and ensure financial stability at home. It was a forced pause in his ambitions and passion for football, but the flame never fully died.
Years later, during the pandemic, he found himself at a turning point. "I didn't feel mentally well, I wasn't strong, and I needed to vent. That's when I discovered CeleBreak." His return to the field was not just a return to the game; it was a reconnection with the sensations of his adolescence.
"Halandowski," as he identifies on the CeleBreak app, has accumulated more than 150 games with the community. CeleBreak, for him, is not just a place to play football; it's his refuge to disconnect from day-to-day life and enjoy "the beautiful game" with people who have become daily companions.
The value of a good atmosphere in the games organised by CeleBreak is what he emphasises most. "I've made a bunch of friends from all nationalities. The organisers treat you incredibly well, creating a connection that motivates you to keep coming back," he emphasises with gratitude.
Today, Rony is part of a community of over 20,000 active players in CeleBreak and stands second in the Barceloneta League with his team: Sparta de la Risa.
His story is not just a testament to his love for football but also a reminder of the power of community and how, through CeleBreak, people can find more than football games: an authentic connection that transcends nationalities and religions.